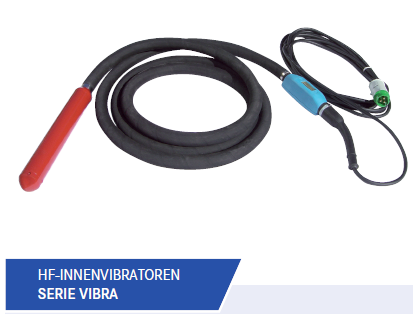 INTERNAL ELECTRIC HF POKER VIBRATOR 42V 200 Hz
HF Internal Vibrators of the  Series Vibra  The High Frequency internal vibrators of the series Vibra stand out for robustness and low current consumption and high concrete compaction.
5 m hose and 10 m cable H07RN-F with CEE plug as shown are standard delivery. Other cable length on demand.  All types have a rubber head as option.
Our internal vibrators are built for rough construction sites and are driven by rotating or electronic converter. They are equipped with 3-fold bearings  (SKF), a hardenend vibration head and thermal protection in the windings (optional). The State-of-the-Art manufacturing guarantees worldclass power and a long life.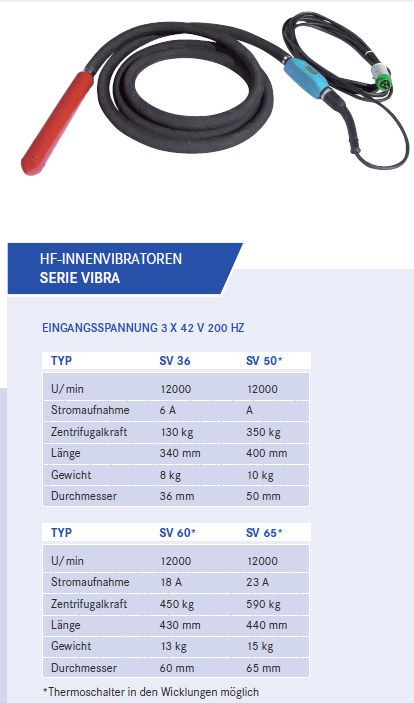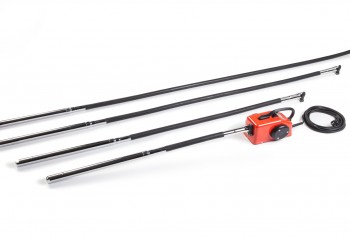 ELECTRIC HAND HELD POKER VIBRATOR
A compact, light weight device (± 6 Kg), which is especially used for conrete compaction in small formwork, on small construction sites or for prefabricated concrete parts.
The extraordinary electric motor runs with 4.000 rpm. Also the flexible shaft runs with 4.000 Umdrehungen pro Minute. The pendulum vibrating system creates 12.000 vibrations per minute, which cause together great centrifugal force a fast and otptmum concrete compaction.