LSLV S100 (0,4 – 75 kW)

The innovative inverter, designed for the world-market, also in IP 66

0,4 - 75 kW IP20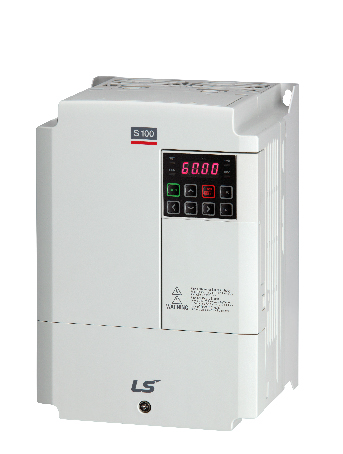 IP20 version for 0,4 kW – 75 kW
200-240V 0,4 – 2,2kW, 3×380-480V 0,4 – 75kW
V/f control, sensorless vector control, PM sensorless vector control
23 I/Os
Safe stop acc. EN ISO 13849-1 and EN 61508 SIL2 (En 60204-1)
Integrated EMC filter class C3
Side by Side Installation
Small size(60 % smaller, benchmark 11 kW)
PLC funktionality (simple programm steps, max. 18 steps with 29 function blocks, 30 parameter)
Built for networks (konformity with Open Field Network Standards, CAN, PROFIBUS, MODBUS TCP; ETHERNET I/P, Ethercat)
IP66 protection (0.4~22kW), IP20 (0,4~75kW)
P2P I/O Share Function (combine multiple inverter, use of all I/Os)
Capacitor and Fan life survey function
Smart Copy Funktion (Flash Drop, parameter copy and download of operationg system without power)
Integrated DC reactor for power factor enhancement > 30 kW
Conduit kit for UL
Flannge option (to mount inverter inside small cabinet and cooling system outside)
0,4 - 22 kW IP66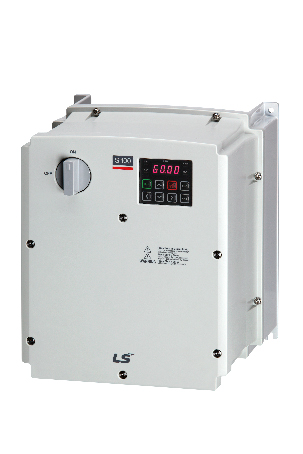 IP66 version for 3×380-460 V 0,4 kW – 22 kW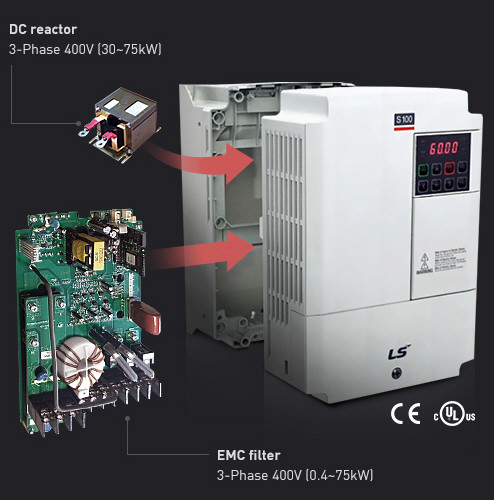 Structure of S100
DC- reaktor and EMC filter
DC reactor
The integrated DC reactor improves the power factor and reduces the harmonics. DC reaktor is standard for 400V 37-90kW inverter.
Integrated EMC filter
An integrated EMC filter for norms  (Industrial standard)
400V 0.75~30kW integrated as standard (C3)
400V 37~55kW integrated option (C3)
※ 75~90kW complies with EMC norms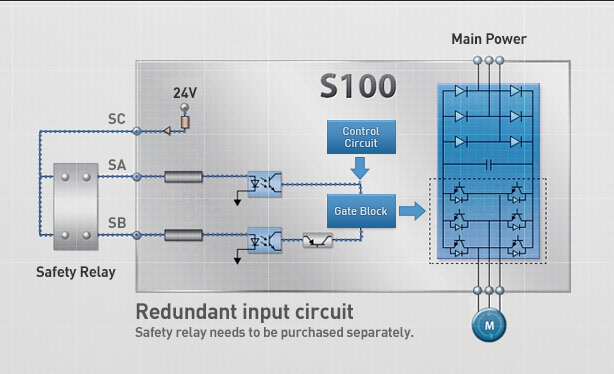 (STO) Safe Torque Off
The Input Function STO complies with EN ISO 13849-1 PLd and EN 61508 SIL2 (En 60204-1, stop category 0).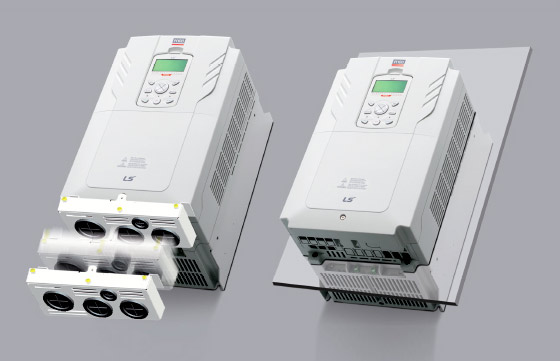 Space efficient design
Side-by-side installation
Minimized distance between products enables control panel size reduction when installing multiple AC Drive.
※Sibe-by-side installation not for 37~90kW.
Small size

Main parts are optimally arranged inside through the use of thermal radiation analysis and 3-dimensional design to reduce the dimensions by
up to 60%(volume based) compared to the previous product(iG5A)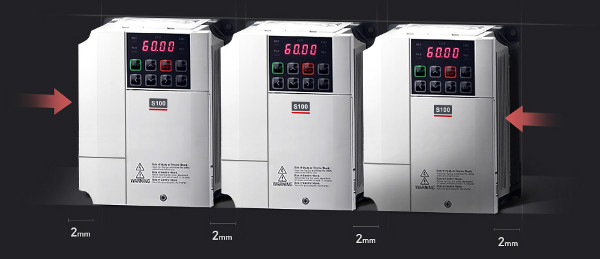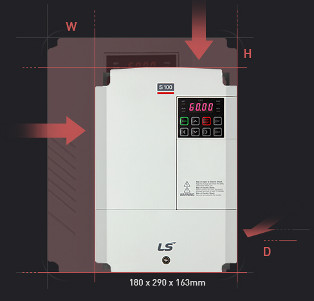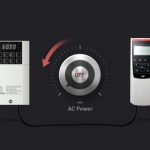 Smart Copier
Smart copier allows users to download & upload the parameters from/to S100 without AC input power
LED feedback
Parameter read/write
Easy to install
Data sheet S100 (PDF)
Simple manual S100 <= 22 kW (als PDF)
Simple Manual (30-75kW) S100
Simple Manual IP66 S100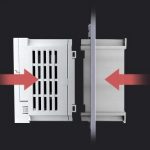 Flange option
The inverter S100 can be mounted in a very small cabinet by using the flange option. Protection degree IP55 is reached and the cooling system is placed outside the cabinet.
( better  cooling system and smaller cabinet)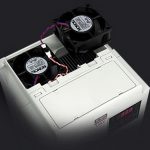 Fan exchange
Fans can be echanged in seconds time.